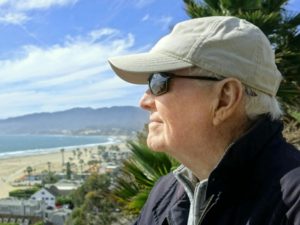 A few words about me
I discovered California and photography at almost the same time – and at a surprisingly late stage of my life. After a long career in New York book publishing and an extended period of retirement, I pulled up stakes and headed West to pursue the remainder of my golden years. 
Before moving to California I had little or no interest in photography. As a young family man with a lovely wife and three photogenic daughters, I naturally snapped all the photos expected of me. But it was without inspiration or especially noteworthy results. I was happy if the subjects were recognizable. My several cameras of those days resided mostly on the closet shelf.
Arrival in the Golden State decades later was a true epiphany. Everything around me demanded to be photographed. I began in 2015 with a humble cellphone camera and was amazed at what it could do. From there I quickly followed the common path from a basic point-and-shoot to an array of DSLRs.
Along the way I discovered what turned out to be my favorite camera, the Sony RX100. This tiny marvel is almost always in my pocket, and for that reason is responsible for the vast majority of work. My general practice is to use DSLR for inside shooting, Sony for outside. I do very few landscapes, as will be evident to anyone who explores these galleries.
My philosophy is quite simple. To me, what one sees inside the picture frame is paramount. No matter what the subject, the final image should have life, vibrancy and, if possible, originality. Many of my photos are severely cropped to produce the results I seek. I closely edit every aspect of the basic shot, from exposure and color to saturation and contrast. If the edited image doesn't actually resemble the original, I don't really care. I feel that's how photographic art is created in this glorious digital age.
Thanks for visiting my galleries. I hope you'll enjoy these photos half as much as I did making them.